When you've met the person of your dreams and are ready to make it official, there are a number of ways to tie the knot. If you've decided you want something unique, one of the most overwhelming decisions is defining and following through on the type of wedding that reflects both of your personalities and desires. With just a little research and planning, your day can be turned into a new tradition.
Here are six ideas for a non-traditional wedding ceremony, including some non-traditional places to get married:
Viva Las Vegas
Wedding planners in Sin City will tell you that Elvis is not dead. Ron DeCar, a performer and owner of Viva Las Vegas Weddings, told the New York Times that half of the weddings he handles feature Elvis impersonators as officiants. Other celebrity impersonators such as James Bond, Batman or the Blues Brothers are also popular. Of course, if you want to get married quickly, Las Vegas is the destination. Not only can weddings be completed in as little as 15 minutes, they can be done at a drive-through chapel. Whatever a couple wishes for their nuptials can come true, whether it be large and luxurious or over-the-top crazy. Additionally, whatever happens here can stay here, if that's the desire.
At One (or, rather, two) with Nature
Maybe the idea of getting married on a mountain top or in the middle of the desert is your true desire. Many resorts in those locales offer packages that allow guests a ceremony and reception surrounded by the beauty of nature. If a geyser will help constantly remind your spouse of his or her commitment, there's always the option of Old Faithful in Yellowstone. While the National Parks have restrictions for wedding party size and often forbid ceremonies in heavily traveled public facilities, a union in the wilderness is possible with advance, written approval. For those on a budget, research the fees and laws regarding weddings in local public parks and public or private gardens.
Let's Getaway
There are more and more couples opting to have their weddings where they plan on honeymooning. Such a ceremony is a good idea if you want something more intimate and wish to keep the guest list small. First, consider the honeymoon destination and then research areas immediately surrounding the location. Contacting local tourism offices in the area is helpful; they can provide insight on venues as well as other amenities that may be available.
Go with a Theme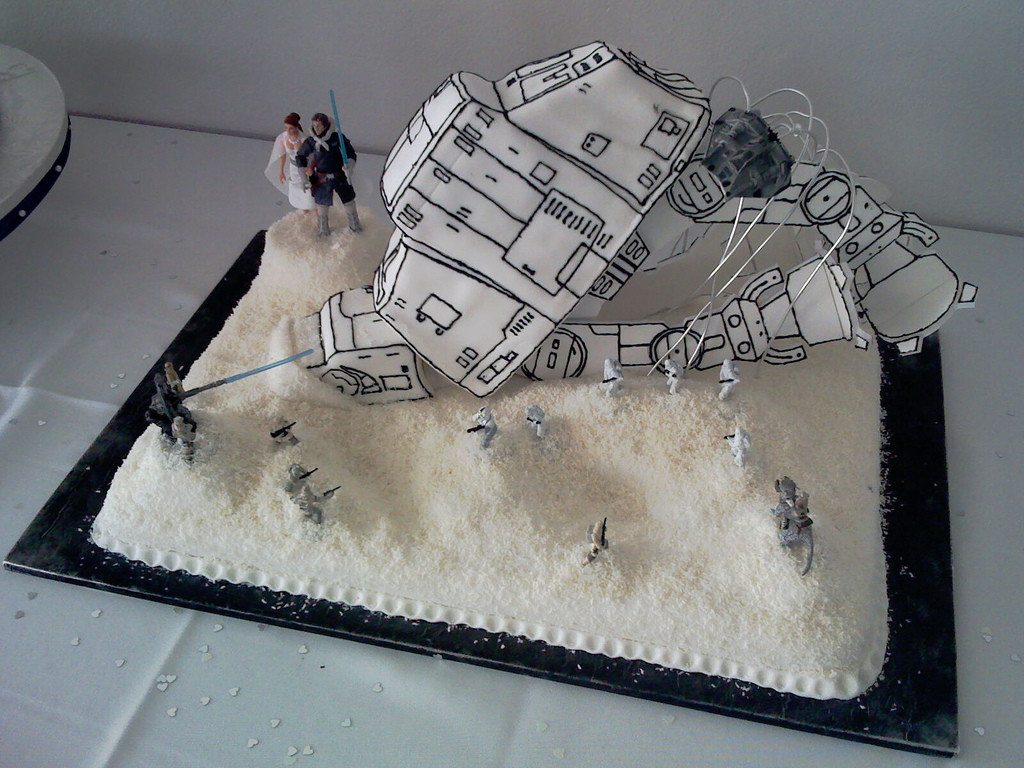 It is possible to create almost any type of theme: a fairy-tale wedding with a horse-drawn carriage; a Star Wars union, complete with a Wookie as your best man; a Hawaiian ceremony–in the middle of Iowa–complete with leis; or a medieval ceremony with groomsmen in suits of armor and a royal feast for your reception. Theme weddings allow plans to be more focused: all the food, decorations and music match the theme, leaving you with fewer decisions to make.
Hit the Beach
Whether it's the pebbly coast of Cape Cod, sunny California or a remote location in Greece, a beach wedding can have a relaxed feeling. Start your search at local hotels or resorts with beach access. Many of them offer packages that include attention to every detail you may desire. Consider keeping the attire casual as beach sand, surf and high heels do not always mix. In fact, many beach nuptials encourage barefoot wedding parties and guests.
Go to Extremes
Want to prepare for a life of highs and lows? Consider renting out a theme park and get married on a roller coaster. Take your love to new heights by exchanging vows in a hot-air balloon. Plan for a sporting life together by getting married at the venue of your favorite team. You may even want to don your wedding party in team colors. Some famed football and baseball stadiums, including Soldier Field, Lambeau Field and Yankee Stadium, have rental facilities for such occasions. Of course, major league locations can have long wait lists, so call as soon as the idea comes to you and note that you may have to be flexible with dates due to game schedules.
Just remember, the creative opportunities and budget range are almost limitless. Begin by thinking of what you and your partner love, write down ideas, and research the costs to see if a non-traditional wedding is what you would both prefer.
Featured Image Credit: altered from a photo by Flavio Lorenzo Sanchez, under a compatible license
Save