Welcome to our first of many seasonal Martial Arts Calendar. We'll select a few events to highlight each season, throughout the United States. We'll also highlight an event outside of the United States. Here you'll find martial arts, mixed martial arts, and karate events for 2015 fall season.
The South
Blitz Mayan Challenge – October 23-24, 2015
Orlando, FL – This international competition draws many Latin competitors, in addition to athletes from the United States. All ages and belts compete.
United Cage Fights 12 – November 7, 2015
Fort Meyers, FL – This small amateur MMA event happens several times a year, and features 20 fighters in 10 matches, usually, but not limited to, Floridians. There are three title fights.
The North-East
24th Annual Twin Towers Classic – September 25-26, 2015
Jamaica, NY – The Twin Towers Classic is an International Championship is open to all ages, ranks, and both male and female. Competitions include Karate, Tae Kwon Do, Ju Jitsu, and Kung Fu. Here are the divisions: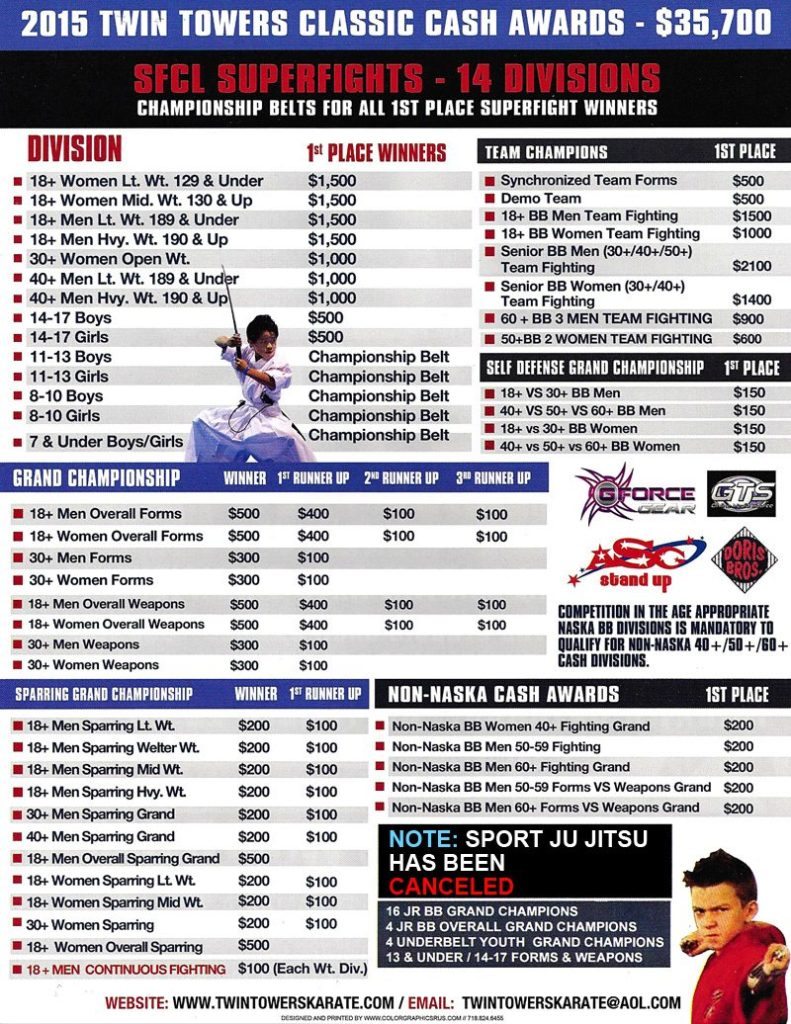 The Mid-West
Diamond Nationals World Karate Championships – October 9-10, 2015
Minneapolis, MN – This NASKA 6-A rated tournament is for Sparring, Form, Weapons, and Superfights. Competitors who sign up before September 25, 2015 get a lower registration fee.
Warriors Legacy Tournament – October 10, 2015
Auburn, IN – Put on by the Professional Karate Commission, this event offers both regional and national points. Competitions include Kata, Weapons, Demo, Chanbara, and Kumite (freestyle fighting).
The West
USAMA Rules Seminar & Certification – October 10, 2015
Riverside, CA – This seminar put on by the United States Association of Martial Arts covers Individual Point Sparring Rules. The session is instructed by Chief Referee Lee Kittell. Here are the rules for certification.
All American Fight League Youth Pankration – November 14, 2015
San Bernadino, CA – This matchup is a competition of youth dual meets. Competitors, coaches, and officials must be licensed.
Abroad
World Junior and Cadet and U21 Karate Championships – November 12-15, 2015
Jakarta, Indonesia – Get inspired and support Team USA's Karate athletes at a tournament near you. The big event coming up in November for Juniors and Cadets and is put on by the World Karate Federation.